BY SIDDHARTHA MUKHERJEE
Directed by R. Balki
Starring: Akshay Kumar, Sonam Kapoor, and Radhika Apte
How can menstrual cycle  and personal hygiene of women be an adult content? Pad Man is not the first film to draw our attention to periods; 'Phullu' made a brave attempt in 2017, but it failed to stimulate dialogue. Directed by debutant Abhishek Saxena, 'Phullu' was ridden by controversies for having a plot similar to PadMan. It is disheartening to find that even the Censor Board gave an A-certificate to the film which was absolute injustice. There's no doubt that the subject and the intention of these films is applause-worthy. In India, the 'shame' associated with 'that time of the month' is still so sturdy, pervasive and so persistent that anything bringing out 'that'-thing into the open is cause to cheer; and a film featuring a big star is sometimes the best way to break age-old taboos. Had Padman released on its original date, 25 January, along with Padmaavat, it would have surely dominated the 'vagina monologues' (how can we forget Swara Bhasker's open letter to Sanjay Leela Bhansali stating that 'Padmaavat' made her feel reduced to a vagina at the cost of Rajput honour?). Akshay Kumar-starrer Pad Man battles an abstract notion of shame (which masqueraded as a shield of honour in Padmaavat) around the conversation on menstruation.
The conversation around the 'painful-five-days' finally seems to be getting some kind of support from mainstream cinema. Akshay Kumar – through his movie – is pressing his audiences to reflect upon a key issue: menstrual hygiene and the need to discuss the perils surrounding it. Helmed by R Balki and bankrolled by Twinkle Khanna, PadMan is a biopic on Arunachalam Muruganantham, who became a household name after inventing low-cost sanitary napkin making machines.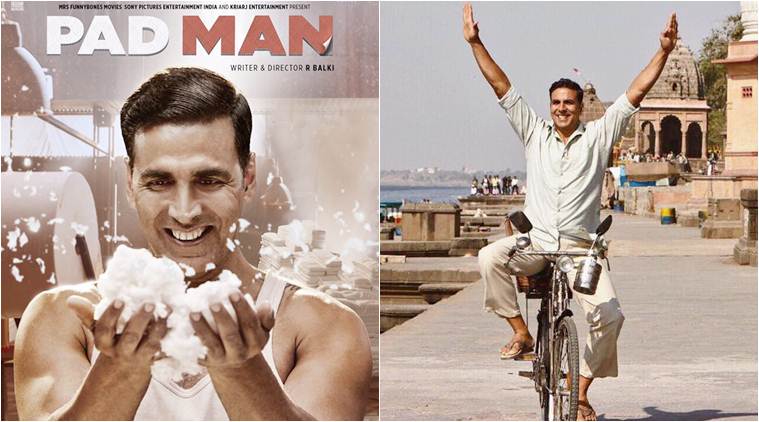 Pad Man highlights the story of this Coimbatore social activist who, in 1998, embarked upon a seemingly impossible journey of making sanitary pads easily available for women after he saw his wife using old rags as a substitute for the essential commodity. Padman is based on a short story in Twinkle Khanna's book The Legend of Lakshmi Prasad. Akshay Kumar plays the role of Lakshmikant Chouhan, the character modelled on Muruganatham, a mechanic who lives in a village in Madhya Pradesh.
Manufactured momentum doesn't often translate into momentousness: for decades now, 'menstrual issues' has been a major stigma attached to the discussion of the second-sex troubles in our country. While most women are not allowed to visit temples during their periods, some are also treated as untouchables within the premises of their own houses; entering kitchen (which is often culturally considered the most pious spot of a house) during periods is forbidden – even as men refrain from acknowledging the various medical ailments that their partners go through. In India, barely 12% of our menstruating women use sanitary pads. Soon after Lakshmikant's wedding to Gayatri (Radhika Apte), he notices how she is ostracised from the house during menstruation. Watching his wife, using a dirty rug to clean the menstrual blood, makes Lakshmi apprehensive of the health hazards it could cause to his wife.
(The substandard state of menstrual hygiene over a long stretch of time has led to worsening health conditions. Women in our country now suffer from urinary tract infections, reproductive tract infections – in most cases, leading to cervical cancer, which, in itself, kills around 72,000 women in India every year – more than anywhere else on the globe.)
Gayatri is averse to the idea of using a sanitary pad because of its high cost, which prompts her husband to come up with a low cost sanitary napkin of his own. His efforts backfire as his single minded agenda to invent a pad only results in the entire village dubbing him as a madman. Thus commences his journey to evolve from a 'madman' to a 'pad-man'.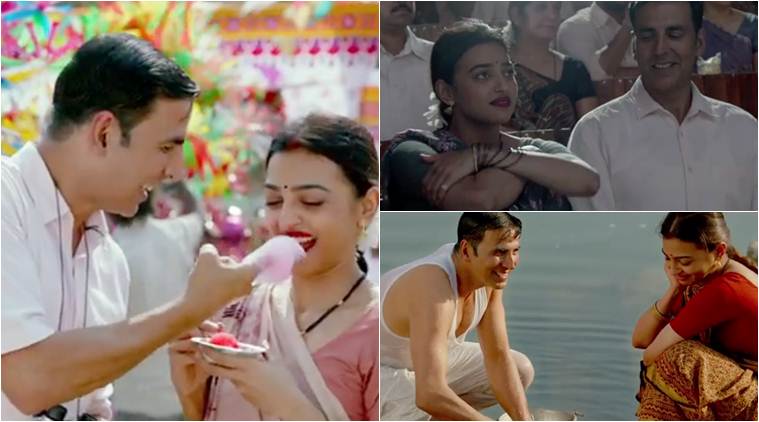 (When it comes to education, in India, 1 out of every 5 girls drops out of school because of something as natural and basic as menstruation: a total of 20% girls in our country end up abstaining from school.)
By adopting lightening-speed-editing and endless action Pad Man tries to offset its intrinsic earnestness, while the complexity of Laxmikant's battle against stigma and prejudice gets lost in the process. The 139-minute movie sketching out Laxmi's ingenuity in often redundant detail, is accompanied by an insistently uplifting background score and contrived soap operatics. Laxmikant's war might be waged in the name of his tradition-bound and submissive wife, but it is another woman who nudges him towards success. Business school graduate and tabla player Pari (Sonam Kapoor) becomes Laxmikant's champion, sales and marketing head, and bridge to the world beyond the shack where he churns out his affordable pads.
R Balki and Swanand Kirkire creatively deconstruct Khanna's short story and then construct a narrative of their own; the divide between the 'classes' and the 'masses' plays an important aspect in the film. While the pre-interval portion focuses on the countryside (Lakshmi's native village), the post interval bit transports the viewers to New Delhi and Indore for the most part.
Sonam Kapoor, known for her oft feminist stance, never fits into her character. She is not dazzling enough to distract us from the inherent flaws of the script — like the repetitions and a predictable ending. Sonam Kapoor is absolutely hobbled by the writing. Her character is as inconsistent as the smile on her face. The actor struggles to make her character believable.
Akshay Kumar layers on the 'good-boy' charm using subtle humour and a straight face to debunk one menstrual myth at a time. He revels in Laxmi's energy as the deep-voiced crusader, his giddy effervescence and aching vulnerability.
Much of the power in the scenes here comes from the wonderful actor, Radhika Apte. She is guileless and raw. Her unknowing smile and elegant charm make the daily household situations even more piercing. It's a testament to the skill and smarts of Apte who lifts an underdeveloped screenplay by just acting the hell out of it. Gyatri, a happily married, spirited woman – a woman who isn't afraid to acknowledge uncomfortable emotions, gets drowned in the drudgery of societal 'shame' and ill-fate. Through these bumps, she doesn't falter; Apte is a bulldozer flattening out the flaws with her blazing performance. She's tough and uncompromising.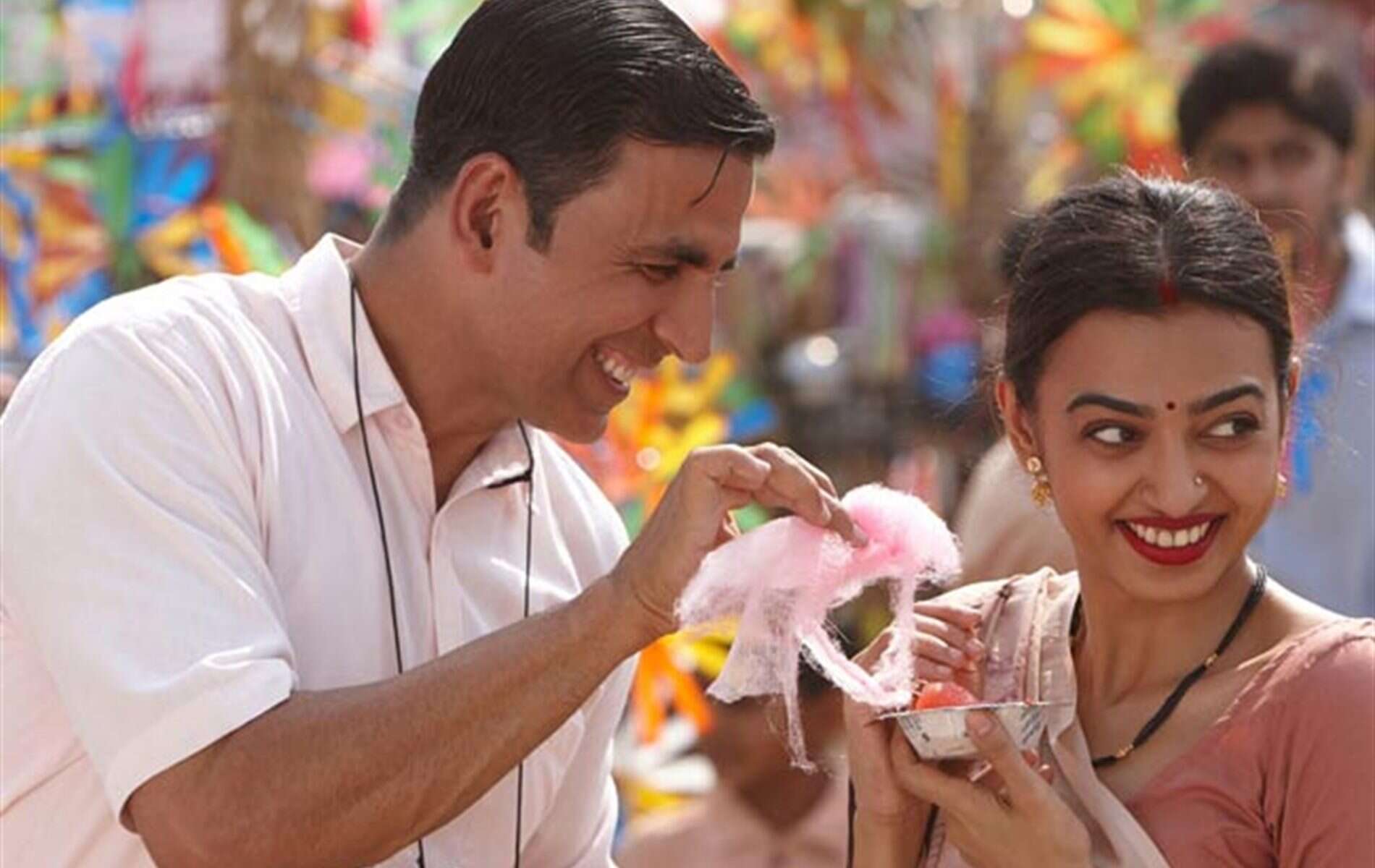 The film dramatises Laxmikant's reality to accomodate romance and distinction with a computation that is one of the weakest aspects of an otherwise constructive plot. Post interval, it's hard to take the film seriously; despite a very gripping first-half, the screen-play fails horribly to lift the plodding of the script. Save for a few moments of inspired humour, and a handful of clever comebacks, the film doesn't give Akshay Kumar much scope to flex his 'good-acting' chops. Here's a story with wasted potential, one that could have been more effective with tighter writing and clever twists. However, the message was important; the awareness was needed, and the film doesn't disappoint in this regard. Oh yes! Amitabh Bachchan pops up in a cameo to commemorate the mighty 'Padman'.