BY SIDDHARTHA MUKHERJEE
Take away all of the magazine tabloids, internet memes and the overall media hoopla that comes with being Ryan Gosling, and you simply have one of the great actors of his generation. Though Gosling took a break from acting to focus on his personal life for quite some time, he's recently returned to the spotlight, with highly praised roles in the action comedy, The Nice Guys, and the critical darling, La La Land. Ryan Gosling reunited with his 'Crazy, Stupid, Love.' and 'Gangster Squad' co-star Emma Stone for La La Land — and the movie ever since its release has ended up as one of the better-reviewed movies of the year and of the actors' best. 2 Oscar and 5 Golden Globes nominations at the age of 36 is nothing less than extraordinary. Ryan Gosling is one of the most acclaimed actors of this generation; from quirky indies like Half Nelson to rom-com blockbusters like Crazy, Stupid, Love Gosling appears to be having a pleasant time. While he has made almost no poor career decisions (he was the bright spot in an otherwise dim Gangster Squad), Gosling is slowly building one of the most unique and celebrated careers in modern cinema. He's gone toe-to-toe with Steve Carell for a lesson in improv-comedy and has had both indie and mainstream success. Also catching him in Nicolas Winding Refn's Only God Forgives, only goes to prove that the way he dissolves himself completely into his dramatic roles. His acting skills and charm have earned comparisons to both Robert Duvall and Marlon Brando. So, let's take a fond look back at some of the brighter highlights from Mr. Gosling's growing filmography:
LARS AND THE REAL GIRL (2007)
A sweet little fable about how a delusional man-child is helped by the loving ministrations of his family and community, the kind of throwback film where human nature is seen as inherently good — a notion so quaint that it feels damn near buoyant. Few actors could have grounded its largely inscrutable and possibly demented central character as sensitively as Gosling, who earned a Golden Globe nomination for his work.
THE BELIEVER (2002)
Gosling was selected in the lead role of Henry Bean's The Believer which is a harrowing dramatization of the incredible life story of Jewish Neo-Nazi Daniel Burros. While Gosling's character in the film acquires a somewhat happier ending than the real-life Burros, who shot himself after his heritage was publicly revealed, that doesn't make the rest of the movie any easier to watch — and neither does it detract from Gosling's searing performance.
THE IDES OF MARCH (2011)
While the film wasn't exactly a runaway success, it found no shortage of critical accolades for Clooney (who starred, directed, and earned an Oscar nomination for his screenplay), Gosling (who picked up another Golden Globe nomination for his work as a conflicted campaign manager), or the film itself. Howard Dean's 2004 presidential campaign may not have amounted to much besides a lot of mocking soundbites from pundits, but it did provide the inspiration for Beau Willimon's well-reviewed play Farragut North — which, in turn, inspired George Clooney to adapt its script into the screenplay for The Ides of March, a great reviewed 2011 political drama about, the lust for power and the costs one will endure to achieve it.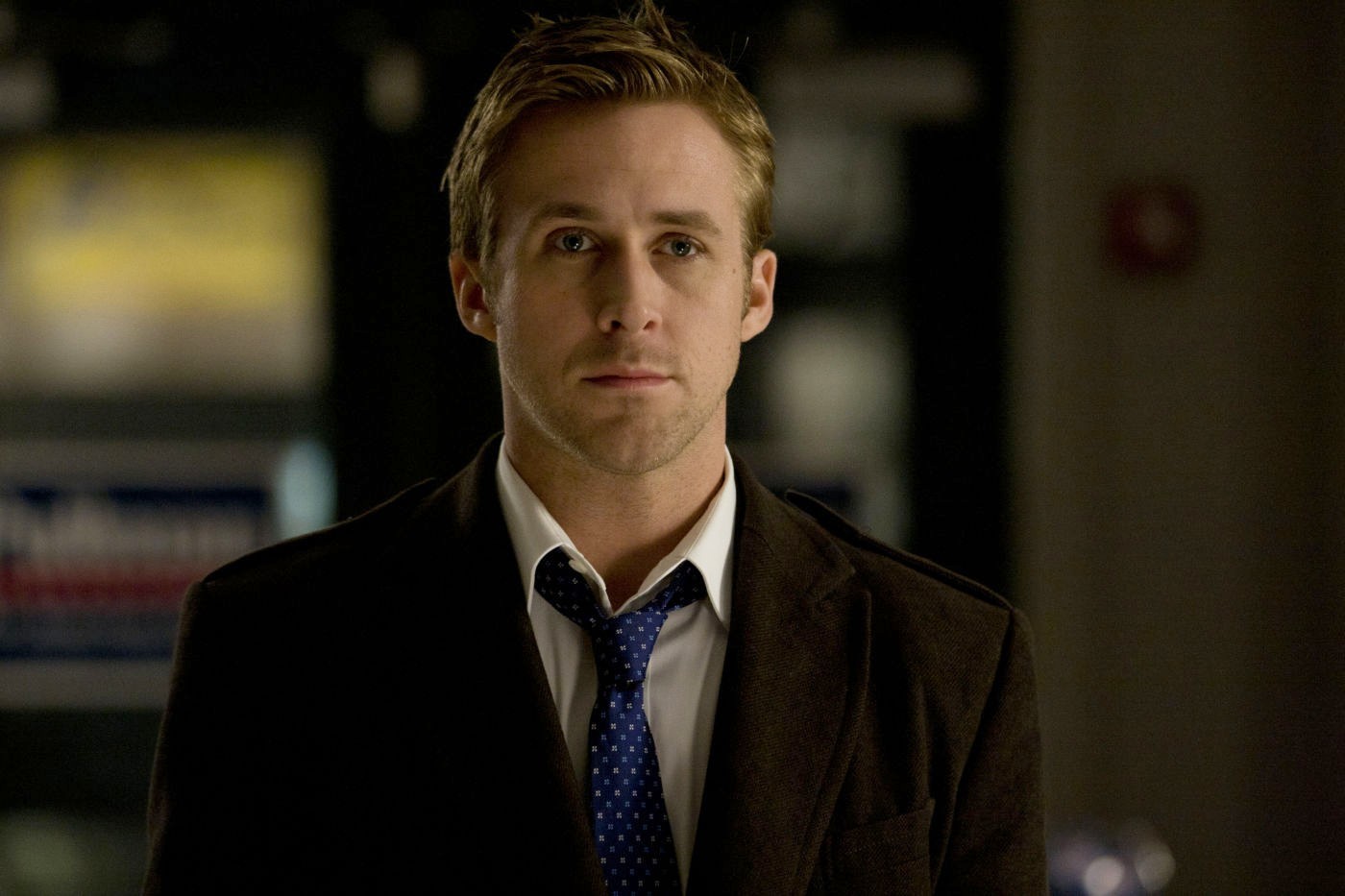 BLUE VALENTINE (2010)
Writer/director Derek Cianfrance struggled for years to find funding for Blue Valentine, but his faith was handsomely rewarded when the film's sensitive, non-linear portrayal of a young urban couple's courtship and divorce ended up earning some of the most passionate critical accolades of 2010 — including a Golden Globe nomination for Gosling and an Academy Award nomination for Michelle Williams. The movie at its root a hard-to-resist character study; that's because the character being studied is you and me and everyone else who has ever fallen in, and out of, love. Gosling's acting skills dive deeply into the happiness and heartache a damaged relationship can give you and his character creates a story that understands how real life romance actually works. Gosling's remarkably vulnerable performance yields a timeless portrayal of love, romance, agony and despair.
HALF NELSON (2006)
In Half Nelson Gosling plays Daniel Dunne, a 30-something middle-school teacher in a down-and-out Brooklyn neighborhood. Dan is like a superhero in reverse, charismatic and brilliant by day, self-pitying and self-destructive by night. He drinks, smokes, snorts coke with bar pickups, and, when the stress really gets to him, takes the odd hit of crack. Gosling earned an Academy Award nomination for his work in this film which is a piercing drama and it proved an instant favorite for critics. Although the subject promises more than the film can deliver, there is compensation in Gosling's convincing, unromanticized portrayal of someone seeking escape from longing and loss that neither he nor the movie can really define. Gosling is a live wire of an actor, with delicate features and an introspective intensity.
DRIVE (2011)
Ryan Gosling plays the driver, a stunt performer by day who moonlights as a getaway driver for anyone willing to pay his fee. When a favour he does for a neighbour goes wrong, 'the driver' embarks on a vengeful killing spree across L.A. Ryan Gosling's character came equipped with enough cool to rock a satin scorpion jacket. Gosling exudes a subtle charm and p roves himself his own man quite capable of taking us places we didn't even know we wanted to go. Gosling's commitment is total; his talent unplumbed.
THE NICE GUYS (2016)
This film features Gosling next to Russell Crowe as a pair of LAPD detectives who stumble into a conspiracy while investigating the demise of a porn star. The film's '70s setting makes room for a cool soundtrack and somewhat questionable wardrobe choices. When Gosling has been roped to essay an important role in a film even the most well-worn formula can make for entertaining viewing, and The Nice Guys offers delightfully profane proof.
That's all folks!