BY SIDDHARTHA MUKHERJEE
Directed by Sanjay Leela Bhansali
Starring: Deepika Padukone, Shahid Kapoor, Ranveer Singh, Aditi Rao Hydari, Jim Sarbh,  Raza Murad and Anupriya Goenka
The Karni Sena had been spearheading protests against the film and responded to a letter by Bhansali Productions and disclosed that a six member panel would watch the film before its release as proposed by the filmmakers. Several attempts were made to derail the film till the very last moment on allegations that it would hurt Rajput pride and warp history in the name of "artistic freedom". The sets of the films were vandalised in Jaipur and Kolhapur early last year. Director Sanjay Leela Bhansali was attacked and a bounty of Rs 5 crore was offered to chop off the nose of Deepika Padukone, who is essaying the role of Rani Padmini in the film. According to the protesters, none of whom has seen the movie, there is a romantic dream sequence between Rani Padmini and Alauddin Khilji, the invader, essayed by Ranveer Singh. After the director dismissed the rumour of a dream sequence, the Karni Sena claimed that even Khilji watching Rani Padmini through a mirror was not true.
The movie, initially titled 'Padmavati' was scheduled to be released on December 1, 2017 but was delayed amid protests and death threats. The Censor Board cleared the movie with a handful of modifications and asked the title to be changed to Padmaavat. Nevertheless, the Karni Sena did not back down and carried on its protests. The movie was subsequently banned in four states Gujarat, Rajasthan, Madhya Pradesh and Haryana. The makers however petitioned the Supreme Court to lift the ban as they had already followed the demands of the Karni Sena and made the required changes. The SC lifted the ban and ordered the movie to release. Finally, the movie was slated to release on January 25 as 'Padmaavat'; however a fresh spell of troubles has clouded its fate. While the Karni Sena is threatening extensive protests in the northern regions of the country, about 16,000 women have sought permission from Prime Minister Narendra Modi to commit "jauhar" (self-immolation) in Rajasthan.
A huge amount of money, time, words and actions has been spent on Rani Padmini, a character believed to be mythical. The first mention of Padmini took place in medieval poet Malik Muhammad Jayasi's poem "Padmavat" in 1540. While many consider her as a figment of imagination, an Archaeological Survey of India (ASI) board at the entrance to "Padmini Palace" in Chittorgarh carries this legend, "Mahrawal Ratan Singh showed a glimpse of the legendary beauty of his wife Rani Padmini to Alauddin Khilji through a mirror here. Following this, Alauddin Khilji went to the extent of ravaging Chittor in order to possess her." Though a few state governments have come out in support of the film and has promised to provide protection to the theatres and movie goers, some states are still against the Supreme Court's decision of pan India release. Prohibitory orders had been imposed till Sunday to maintain law and order situation in view of Shree Rajput Karni Sena threatening to target theatres screening the film.
The basic plotline of Padmaavat follows the story we Indians are pretty much familiar with, which is the "Ek tha Raja, Ek thi Rani, Dono mar gaye, khatam kahani" story. Set In 13th century 'Padmaavat' is essentially a love story between Maharawal Ratan Singh, the King of Mewar and Padmavati, a very beautiful princess of Singhal. Their love at first sight quickly results into the King's second marriage. They may appear attractive from time to time, certainly, but these protagonists are inconsistent, infuriating and test the patience.
Meanwhile, a power fanatical Alauddin Khilji, the Turko-Afghan ruler of the Delhi Sultanate, hears about mesmerizing beauty of Rani Padmavati, who ultimately calls for a war on Chittor to capture her. The subsequent events form the rest of the narrative. Toward the end, the fight between Khilji's army and the Rajputs is described as a 'dharm yudh'. And we all know who finally emerged victorious – not literally but morally.
Just frame after frame of painstakingly art-directed, gorgeously-lit pageantry, Bhansali takes an unbearable length of time to spark the flame. Things go on and on and on, with characters it is impossible to care about; for the curiously hurt Rajput pride, all the film does is singularly exalt the community one declamatory, old world dialogue after another, glossing over any remotely questionable chinks in their armour. The movie is replete with (pointless) grandiloquent and idiomatic dialogues, eye-watering sets and costumes, a rousing background score, elaborately choreographed songs, and the general pomp that is usually associated with Sanjay Leela Bhansali films.
The film is a war epic, love story, and costume drama, all in one, but is bogged down by disappointing execution. Music by Sanjay Bhansali is good enough, but the songs appear a redo of his previous work; while 'Ghoomar', 'Ek Dil Ek Jaan' are visually appealing, Ranveer's futile dance number 'Khalbali' reminds of Bajirao Mastani's 'Malhari'. Sanjay Leela Bhansali makes his most courageous film yet, but sadly the results are not very impressive. No character reaches out; no moment is able to move you. Padmaavat may well be Bhansali's most sterile and insipid outing since Saawariya. It manages to wear down and exhaust rather than engage. If there's one disclaimer that Padmaavat should have rightfully sported, it is "any lapse into boredom is purely unintended and coincidental". For once, the tired reviewer of this blog demands the indulgence of adjectives — Padmaavat is an interminable expanse of unadulterated boredom.
At 163 minutes, Bhansali's ambitious film starts to drag; the film is an imaginary figment as the director claims but it doesn't possess enough meat to keep the viewers invested. The film commences on a slow note and doesn't even speed up until Pre-Interval. Padmaavat somewhat sputters to life in the second half and the queen, who disappears for part of the first hour, reappears and takes charge. The climax in which the Rajput men go out for one last battle and the women prepare to immolate themselves is visually spectacular. The most outstanding focus of the film remains the cinematography. Every visual resembles a grand painting – courts with shadows and chandeliers, courtiers with tilaks and teers, chambers gleaming with mirrors, skies blushing with passion. Sudeep Chatterjee's camera tracks, pans and swoops down on its subjects from above, who are always arranged in perfectly symmetrical arrangements.
The director pays homage to the unforgettable climax from Ketan Mehta's Mirch Masala, also a tale about a man obsessed with possessing a woman who refuses to cave in. In that film, women threw red chilies on the lecherous 'subedar'; here it is coals. The drama rises to a crescendo in the final minutes (the most engaging part of the film) and the powerful, problematic legend of Padmaavati actually comes to life. The overblown climax follows a careful balance of surface rage and inner turmoil. This is a movie of swooning women, often depicted in repose as though in paintings. However, forget the ideological, political, feminist quibbles; the biggest issue with the film is that it is a yawn fest.
Meant to be the unyielding moral core of the story, Shahid Kapoor struts around with a peculiar stiffness of a man sucking his stomach, and waxes philosophical archaic codes of honour. The character holds no plea. The valorization makes the Rajput characters cardboard; however, Shahid looks convincingly regal.
Deepika Padukone with her eyes, brimming with tears, fails to register every emotion. Her expressions lack the swooning touch. She is shown to be be moving in slow motion in certain frames as though she is a part of a striking tableau; she mouths theatrical dialogue like – 'Rajputi kangan mein utni hi takat hai jitni Rajputi talwar mein' or 'dar naam ka gehna Padmavati ne kabhi pehna hi nahi. There is no relatable emotion here.
The wily king from the history books is depicted here as a merciless savage; as Sanjay and writer Prakash R. Kapadia tell it, Khilji is the devil incarnate. Apart from his wife, played by a radiant Aditi Rao Hydari, the Sultanate – down to the last man – have been portrayed as murderous, manipulative, cheating barbarians. Alauddin Khilji murders, without pause, even his family members; spends quality time with captive princesses who are made to stand in wading pools while being pelted by pearls. Ranveer Singh plays the role without consistency or caution: he chuckles, grunts and in turn breaks into Amitabh Bachchan's dastardly laugh from Aks; he wrestles with men not allowed to beat him, and he dances like a hobgoblin. This Khilji amuses – primarily because he jolts the film out of its stupor – but he makes little sense. It is a loud and overblown performance, only occasionally rescued by Singh's natural screen presence. He knows his mind. He also steps up when his army needs someone at the helm. This striking villain, in fact, shows us strength and fortitude throughout this slow-moving film, right up until the end. It is also suggested that Alauddin Khilji is bi-sexual. Khilji is repellent but you can't look away. Ranveer chews roasted chicked and also the scenery with aplomb. His king-size nastiness infuses vigour into the film.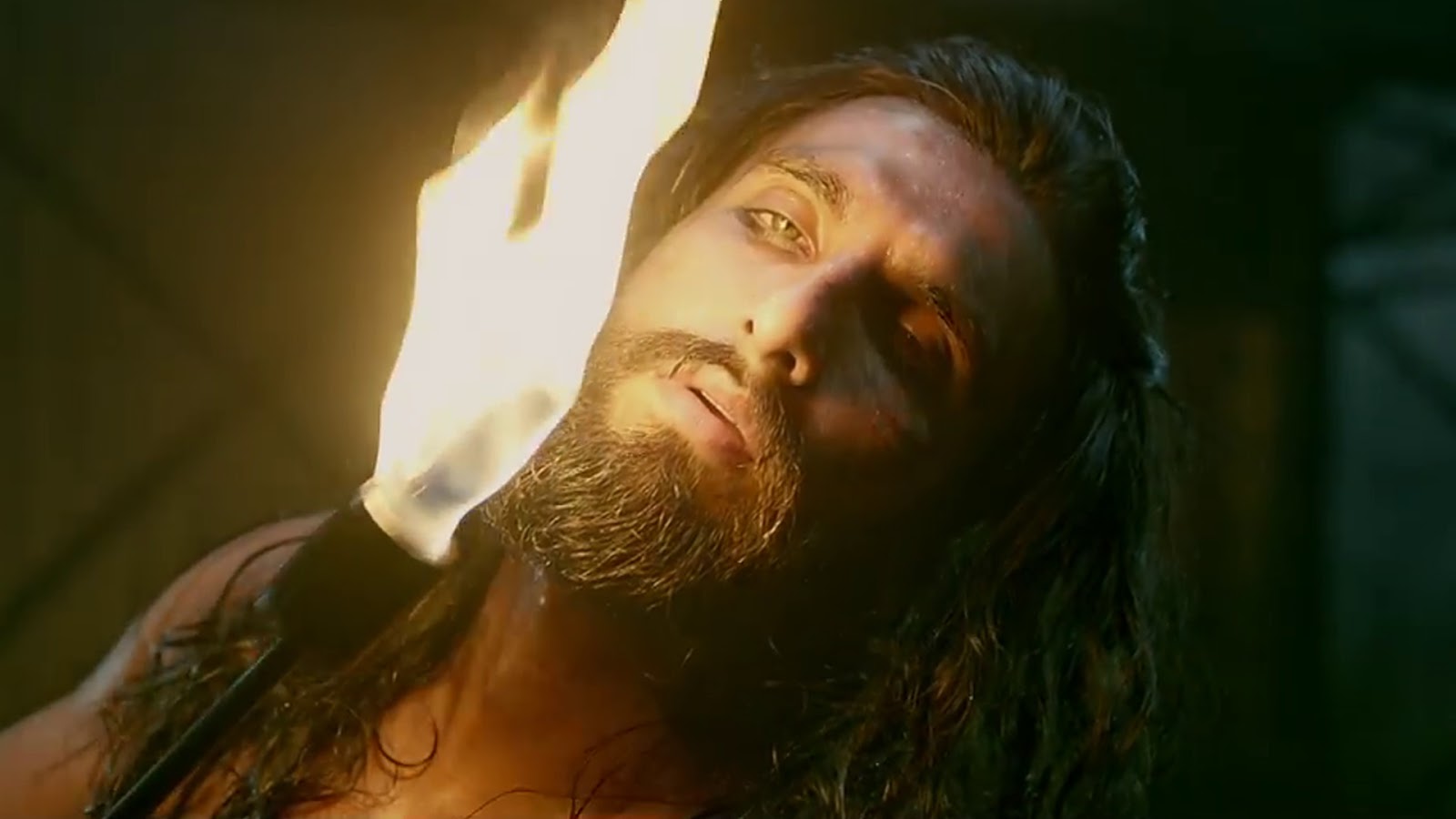 Padmaavat is designed as an unabashed ode to Rajput bravery but ironically, the character who makes the biggest impression is Jim Sarbh who bags the unforgiving role of Khilji's servant Malik Kafur. Sarbh invests Kafur with grace, agility, sensuality and purpose; and he powerfully conveys his character's intensity. Bhansali plays on male bonding between Kafur and Alauddin, giving it a homoerotic touch. In one scene, a character says of Malik, 'uski begum hi samajhiye.' Of course here bi-sexuality is a value judgment (it is one more sign of Khilji's monstrousness). Sarbh pulls off his role with chiseled muscles and glittering eyes, balancing vulnerability and vivaciousness. His beautifully rendered Afghan-inflected accent and physical presence make even the song in the bathtub, where Khilji receives some soothing pedicure sessions form his slave, appealing. The performance is an unmistakable triumph.
The one scene in Padmaavat that made a modicum of impression was of the moment when instead of putting perfume on his own body, Khilji throws it on a girl and then rubs the girl against himself; though unintentionally comical, the scene does provoke a humourous laughter.
The film makes us remember Aishwarya Rai-Hrithik Roshan pairing in the equally lavishly produced, vastly superior Jodhaa Akbar (2008). Remember Queen Jodhaa peeping out from behind curtains at the topless emperor? It was a scene crackling with energy, sensuality, charm and longing. Padmaavat's final nail in the coffin is the lack of chemistry between Deepika Padukone and Shahid Kapoor. Bhansali imbues every frame with epic, precise passion. Bhansali controls his tendency towards hyperbolic drama that has stymied so many of his productions, but he just cannot let go of the reins in the melodramatic climax, which further botches up the unevenly-paced narrative and reduces the film's status; at the end of the day 'Padmaavat' tilts at the windmills of the director's fevered imagination.