She looks and manages to sound like she could be from anywhere, so combined with her phenomenal range, she's one of the most versatile actresses of her generation. From her breakout role in The Mummy, to wonderful films like About a Boy and The Brothers Bloom, and more serious fare like The Constant Gardener, The Fountain, and The Whistleblower, Weisz is consistently excellent in anything she takes on. She blends so well into any setting and has allowed for experimentation on a larger scale, for a whole slew of female characters who were liberated, self-assured, opinionated and unapologetic.
This list should offer ample proof that Rachel Weisz is about more than sweeping, romantic period epics. But if that's the genre that comes to mind when you think of her, there are more than a few excellent reasons; — she is, as always, immensely credible — both when unsure of herself and when recklessly raring to go — and shares her breathlessness with the audience.
We decided to dedicate this column to a fond look back at some of the brightest critical highlights from the Oscar-winning Ms. Weisz's estimable filmography. Checkout:
SUNSHINE (2000)
Sunshine is a sweeping, romantic period epic from director/co-writer István Szabó. Here, Weisz helps anchor an ensemble cast for a story following three generations of life in a Hungarian Jewish family (each of which features Ralph Fiennes in a different role), unfolding from the turn of the 20th century into the aftermath of the 1956 Hungarian Revolution. The movie's three-hour length and Szabó's fondness for melodrama annoyed a handful of critics who couldn't get into it, but for others, the end result was well worth the investment.
ABOUT A BOY (2002)
In About a Boy, "dating Rachel Weisz," is what ultimately cures independently wealthy layabout Will Freeman (Hugh Grant) of his terminal lack of ambition — but only, of course, after he's lured out of his complacent solitude by an unexpected friendship with a 12-year-old boy (Nicholas Hoult) and his mom (Toni Collette). The Weitz brothers keep things bright and breezy, but top honours go to Grant and Hoult who spend the film swapping places as the titular character.
RUNAWAY JURY (2003)
A boilerplate legal thriller enlivened by a crackerjack cast; although all that star wattage didn't add up to a major box office hit, but between the talent on display and director Gary Fleder's deft hand with all the assorted courtroom shenanigans, most critics were duly impressed; as Lisa Schwarzbaum wrote for Entertainment Weekly, "Although the twists are pulpy and the legal foundations feel wildly porous, Fleder, a practiced hand at TV-cop stuff and movie thrills, makes the film a faster, more agile bundle of entertainment than the book."
THE CONSTANT GARDENER (2005)
There's no political thriller quite like a John le Carré political thriller, and The Constant Gardener presents Oscar-winning proof. Weisz took home a Best Supporting Actress Academy Award for her work in the role of Tessa Abbott-Quayle, a woman whose marriage to a British diplomat stationed in Kenya comes to a sudden and tragic end — sparking an investigation that reveals startling truths about the nature of their relationship and who she really was.
Agora (2009)
Alejandro Amenabar's "Agora," is a humorless feminist toga epic that fascinates with its intelligence and its abhorrence of the birth of Judeo/Christian culture. The film depicts the early days of Christianity as an era of Taliban-style radicalism, zealotry and violence against pagans and Jews that shakes the foundations of civilization and enlightened thought. achel Weisz is a pretty good choice to play her. Stories of her refusal to marry depict her as a thinker whose deepest love was scholarship. Weisz plays Hypatia with the didactic air of a brainy woman puzzled by human irrationality, be it superstitious ignorance or declarations of love. Weisz is a natural for this territory, and the cool mania in Hypatia's eyes as she caresses her astrolabe is a road "Agora'' sadly doesn't pursue. You want more time with this beautiful mind and fewer speeches and clashing swords; this visually imposing, high-minded epic that ambitiously puts one of the pivotal moments in Western history onscreen for the first time keeps you enthralled throughout.
PAGE EIGHT (2011)
The plot revolves around an MI5 agent whose involvement with a Syrian-born activist (Weisz) dovetails with his efforts to undermine a Prime Minister who's been in collusion with another agent — vintage British espionage fare, in other words, especially when you factor in a subplot involving classified information surrounding Weisz's brother's death.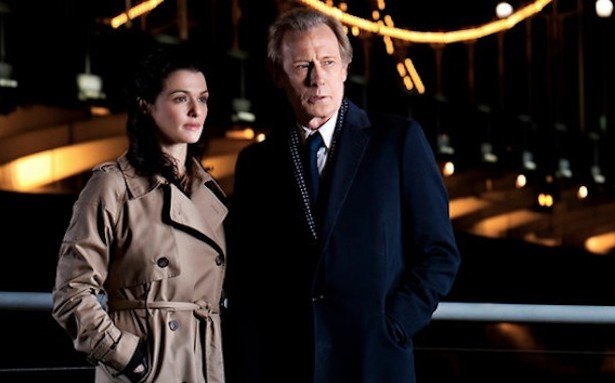 THE WHISTLEBLOWER (2011)
Not the kind of movie that necessarily makes a person feel good about the human race, in other words, but definitely Weisz played the type of role that can bring out the best in a performer — and according to critics, Weisz delivered. It's a thriller sobering enough in its graphic portrayal of forced violence against women that it would be tough to watch if not for the controlled fury Weisz brings to her performance as a down-to-earth avenging angel.
THE DEEP BLUE SEA (2012)
Director Terence Davies drew from distinguished source material when he decided to adapt Terence Rattigan's play The Deep Blue Sea — and he honored it by rounding up an outstanding cast, led by Rachel Weisz as a woman drifting through a comfortable yet passionless marriage and Tom Hiddleston as an ex-Royal Air Force pilot whose thrill-seeking streak awakens her to a life of passion. The moral of the story might seem somewhat retrograde to modern viewers, but it remains heartbreakingly well-written and performed.
YOUTH (2015)
It's as much a cinematic essay as anything else, a meditation on the wonders and complications of life, an examination of what lasts, of what matters to people no matter their age. Oddball ingredients aside, writer-director Paolo Sorrentino's Youth offers some fine actors an opportunity to play well-rounded characters grappling with getting older and contemplating the loss of opportunity and the consequences of their choices. Weisz's role in the film happened to be idiosyncratic and effortlessly moving.
THE LOBSTER (2016)
Yorgos Lanthimos' The Lobster, imagines a weirdly dystopian world in which lonely hearts congregate at a hotel for 45 days to find a match — and if they don't find one, they're magically turned into the animal of their choice. The final act comes with a shift in tone which forgoes the hilarious one-liners in favour of emotional heft and introduces 'Short Sighted Woman' played by Rachel Weisz, who delivers a moving performance. The Lobster is as weird and wonderful as it sounds and will make you think twice before asking the dreaded question, 'Are you still single?'
My Cousin Rachel (2017)
A young Englishman plots revenge against his mysterious, beautiful cousin, believing that she murdered his guardian. But his feelings become complicated as he finds himself falling under the beguiling spell of her charms. Weisz is a fine choice for the eponymous enigma. There's some striking imagery too, most memorably a gloved hand snaking its fingers through hair. The film has a fluid and psychologically penetrating feel, reframing the central dynamic as a shifting power-play.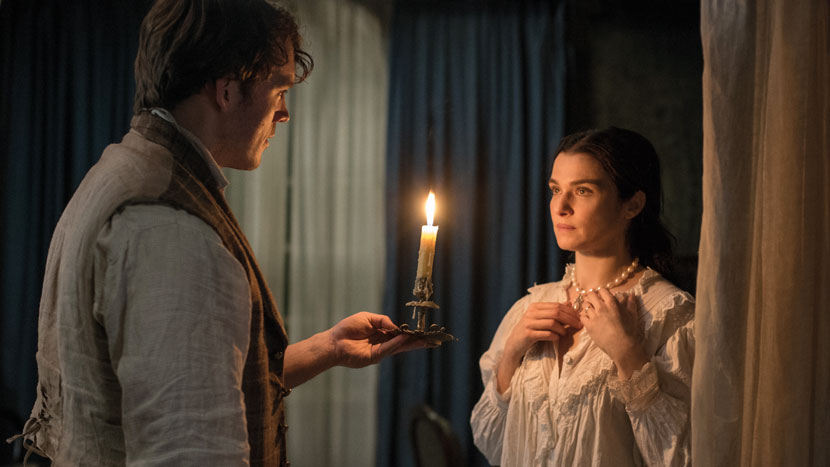 Honourable mention:
Constantine (2005)
The Fountain (2006)
The Lovely Bones (2009)