Everything about this movie is beautiful: the costumes, the scenery, the actors, the music and the plot. La La Land itself is a dream world. Ryan Gosling and Emma Stone look wonderful together.  La La Land walked away from the Oscars with six wins — the 11th film to ever do so. Damien Chazelle's tribute to the golden age of movie musicals had entered the night with a record-tying 14 Oscar nominations — a benchmark previously held only by 1950's All About Eve and 1997's Titanic. The most the film could've taken home was 13, since two of its songs competed against each other in the best original song category. Throughout the evening, the Lionsgate musical won the Oscars for best director, actress, production design, cinematography, score and original song.
Damien Chazelle directs this rapturous song-and-dance romance as if cinema was invented for him to play with – and for us to get high on. Emma Stone and Ryan Gosling hit career peaks as lovers who try to make their creative dreams come true on the mean, art-fearing streets of the New Hollywood. La La Land swings for the fences. Chazelle puts his heart right out there where hipsters can mock him as tragically untrendy. He's not. He's an innovator, a fresh talent who puts technique in the service of feeling and makes the future of film seem like a bright prospect.
Check-out the top 4 reasons to watch-out this amazing film:
The plot and the epilogue
Oh, the ending! And just like the rest of La La Land, the epilogue isn't just a stunning technical achievement; it's not just empty thrills. The finale opens up the film, and Chazelle drives home his ambitious vision of truth and reality in La La Land.
At risk of understatement, this is a cinematic love story for the ages.The film's epilogue is a dreamy, poetic, seven-minute ballet that is stagey in all the right ways, and makes it even more clear to us that Chazelle has a natural, deep-seated instinct for how to shoot this kind of thing—as if everything that we've seen up to this point wasn't enough. The techniques on display in this sequence are varied, judiciously chosen, and the effect is dazzling; there's a sweeping moment of extreme deep staging involving a globe of the world that takes away your breath every time you'll see it. Not only because it's so brilliantly written and performed, this is also a story we haven't seen on screen before, at least certainly not done this well. This story is about two creative people, wildly ambitious and all but defined by their dreams, who really see each other and help each other. Like that of Damien Chazelle's previous film, the ending of La La Land is provocative, equivocal and it lingers in memory. This ending is the reason the word "bittersweet" was invented.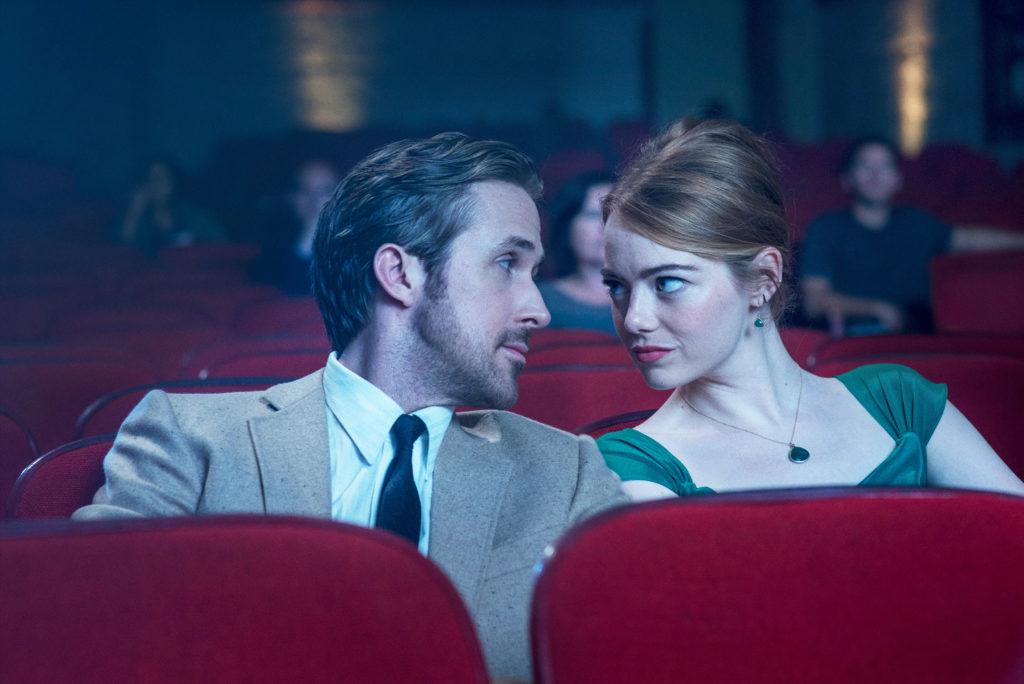 Emma Stone
Emma Stone took home the award for best actress at the 2017 Oscars for her performance. Playing the leading lady Mia, Emma Stone is a quadruple threat. An actress in a movie acting about being an actress who is also acting? Not to mention singing and dancing and looking perfect while doing so. Before she assumes this role that will consume most of her energy, the actress walks into the frame looking fresh and fabulous bringing to mind one of the most iconic portrayals of her career.
Ryan Gosling
This man is talented. He can act. He can sing. He can dance. He played all the piano for this part, for heaven's sake! And he looks pretty damn good doing it all.
The music
Ian Freer at Empire calls La La Land "a funny Valentine" to the entire history of the musical genre. It also has a "clutch of great new songs", says the critic, and songwriters Justin Hurwitz, Benj Pasek and Justin Paul should "take a bow". It "opens spectacularly", with a traffic jam on the LA freeway that turns into a single-take song-and-dance number, says Deborah Ross in The Spectator, adding that she almost "expired with the enchanted gorgeousness of this film".
That's all folks!