Bollywood has had more than its fair share of rib-tickling attempts over time. From 'Chupke Chupke', 'Andaz Apna Apna', 'Padosan' to 'Dhamaal', Indian movies have been tickling the funny bone of Bollywood fans for decades now. Comedy is a tough job. It takes a wise man to convince a crowd that he's a fool. The funniest cinema tends to burrow into our brains like no other form of popular entertainment. Through repeated viewings and earworm quotes, they create unconscious templates for life's milestones and stopovers — dating, road trips, the college experience, marriage, the working world — and remind us of moments in time as well as entire eras. They are comfort food and therapy, high art and cultural critique, nestled lovingly amid fart jokes and crotch punches.
2016 was a dark year for Bollywood comedy movies though, with trash like 'Great Grand Masti', 'Kya Kool Hai Hum 3' and 'Tere Bin Laden 2' making us wonder if we had really asked for them while underrated romps like 'Happy Bhaag Jaaegi' went under radars. In an attempt to forget the abomination of a year and to rekindle belief in our comic cinema, here is the list of 5 memorable Hindi comedy movies of all time.
Andaz Apna Apna (1993)
Rajkumar Santoshi's Cult-Comedy 'Andaz Apna Apna' is a classic that has aged well. "Aila!", "Uima!", "Teja mai hu, mark idhar hai!", "Crime master Gogo naam hai mera. Aakhe nikaal kar gotiya khelunga!"… and anyone  could go on and on and on and still leave some epic one-liners out from 'Andaaz Apna Apna'; such is the sheer quotability of the film with the most legendary cult status ever. Before Aamir Khan and Salman Khan were mega-stars, they were Amar and Prem, two daydreaming nincompoops with a common aim: getting rich by marrying a rich heiress named Raveena. They get together and insinuate themselves into Raveena's house when Amar feigns memory loss and Prem acts as the doctor. The boys don't know that Raveena's secretary Karishma is the real Raveena and Raveena's actual name is Karishma. Raveena switched her identity because she wanted to find a boy who will love her, not her money. And there's their strict father Ram Gopal to deal with. He also has an evil twin. And there's a goon named Crime Master Gogo who is obsessed with playing marbles with eyeballs. Paresh Rawal and Shakti Kapoor eclipse the lead duo in wackiness at points. Amar and Prem's shenanigans make you laugh till your stomach hurts. Immensely re-watchable and boisterously comic no matter which part you begin watching it from, 'Andaz Apna Apna' is one film which can make you laugh no matter what, making it the best of the best of Indian Comedies.
Hera Pheri (2001)
Talk of comedy in Indian cinema , and anybody would snap "Hera Pheri". This is one of the movies which make a permanent imprint on your mind and give you a lot to talk about. With snappy dialogs , impeccable story and a perfect combination of actors and actresses this is certainly a must see. The film tells an interesting story of three good-for-nothings looking for some easy money, who become the middlemen in the kidnap of a rich kid due to a misplaced phone call. Not a big hit when it first showed up, 'Hera Pheri' is now a cult classic thanks to its immense quotability, the lively love-hate vibe between the lead trio and especially Rawal's madcap, side-splitting rendering of the debt-ridden drunkard Baburao Ganpatrao Apte. There are times when the simplest stories touch your heart, or your funny bone in this case. Priyadarshan's Hera Pheri was amongst the smallest films of the year 2000.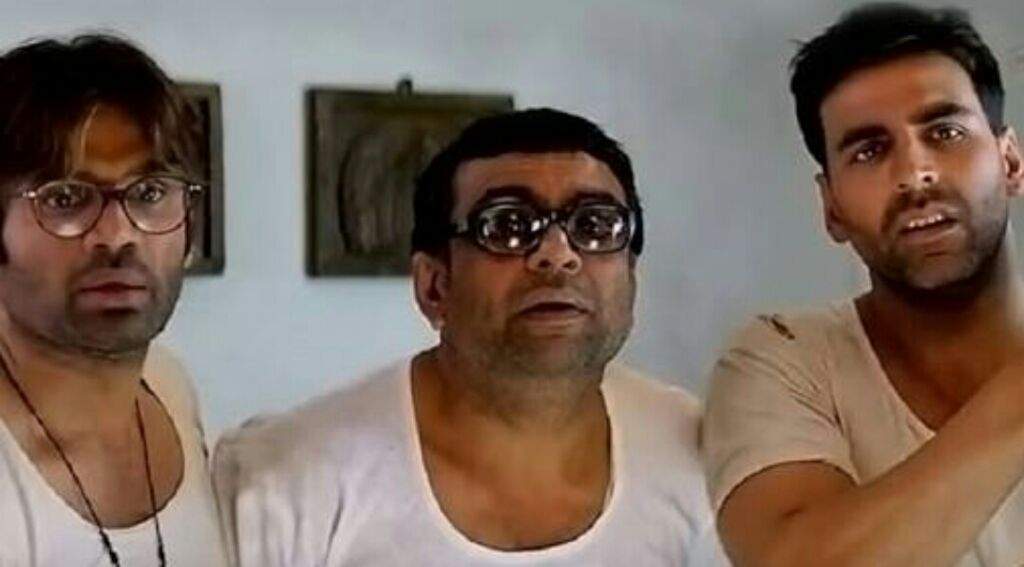 Munnabhai MBBS (2003)
A goon with a kind heart creates difference. Munnabhai M.B.B.S. tells the story of a gangster, Munna, who has also lied to his father that he is a doctor in the city. Every visit from his parents ends up in him faking the existence of a hospital run by him. Things go haywire when Dr. Asthana, a real doctor, calls him out after Munna's father proposes that Asthana's daughter get married to Munna. Left red-faced and embarrassed in front of his father, who vows never to see him again, Munna decides to become a real doctor to teach Asthana a lesson and win back the trust of his father. Munnabhai's tapori exploits with the support of his loyal sidekick Circuit and then as a medical student with some uncanny methods which infuriate the Dean, provide for some wholesome entertainment. Sanjay Dutt as Munna, Arshad Warsi as Circuit and Boman Irani as the Dean redefined their careers with memorable characters. There are quite a few tear-jerking moments, but it's all smiles by the end. 'Munnabhai MBBS' feels like a warm hug.
Oye Lucky Lucky Oye! (2008)
The film opens as Lucky is facing trial and he recounts the story of his childhood, his love life and how he just does the roguery for the heck of it. Aiding him is the ever-so-hilarious Paresh Rawal as Lucky's father / Gogi Bhai / Dr. Handa, acing all of them. Whatever your usual chor-uchakka does, Lucky does it with style, with flair, with a smile and with the ease of a magician, thus making his story an engaging one. Inspired by the real life diablerie of Lovinder "Lucky" Singh, this Dibakar Banarjee flick stars Abhay Deol, the most underrated actor in the business today, in his finest form as he bamboozles his way in and out of the houses of many an elite family across the nation.
Delhi Belly (2011)
The story begins with three roomies and a package gone astray, but follows it up with total mayhem, with everything from gangsters to ex-husbands and diamonds to faeces getting a feature. One of the boldest – actually – the boldest comedy to ever come out of Bollywood, it is crass, on-the-nose and doesn't sit back for a moment. With bang-on acting performances all around (Kunal Roy Kapoor deserves a special mention for looking so genuinely constipated with the titular "Delhi Belly") and the farcical music, Delhi Belly is a hootfest. And while the English version is uproarious, the Hindi dubbed version is a friggin' treasure!
The best comedy films also enjoy a freedom that seems out of place in most other media, with run-times that allow them to develop complicated but self-contained worlds, the full buffet of acting, editing, and musical options, that give them the appropriate range of artistic motion. "Comedy is subjective," we're constantly told. Maybe, but if something stays funny for decades it's clearly reaching across cultures and contexts to tweak our collective nipples for a reason.