Gritty, gutsy, bold and brave are words that are sometimes bandied about in the context of films. But rare is the Indian film that actually measures up to those adjectives. Hansal Mehta's Shahid does. Minimalistic and unfussy in approach, the film directs our attention to a general and dangerously insidious societal malaise through the details of one particular story that has universal resonance. Shahid deserves more than just a standing ovation. It deserves accolades for standing up to be counted and narrating the kind of story that is usually buried under mainstream media cacophony.
It is an audacious film. Angry but remarkably even-handed; it articulates painful truths about contemporary India, its media, its judiciary and, of course, its people. The movie narrates a story of humanity under siege, of people who live in a democracy but constantly have all hopes of justice repeatedly dashed. Mehta seeks empathy for his remarkable protagonist without resorting to the conventional narrative means. Shahid, be it the film or the man, does not reduce the conflict to a simplistic majority versus minority affair.
Specifically talking about the unsung hero of many victim families from the minority, Shahid is an important document bringing to us an iconic name of our social system, not known to majority of people living in the other parts of the country. And the reason for this shameful mass ignorance ironically lays in the way our media works, which actually holds back the positive news for their obvious reasons and always spreads the negative word around in a much stronger and deliberate manner to gain some instant attention. Probably that is the reason why we very well know about the men who made important arrests at those crucial times of crisis but don't really know about the man who got many innocents out of the jail after few years, rightly fighting the court of law with his own sincere efforts.
For instance, be it Mumbai, Kashmir, Punjab, Gujarat, Assam or any other region of our country, we always get to hear and read the news of suspected terrorists arrested from anywhere and it's at once all over the media as their main focus. But whenever the same court serves justice making those 'framed people' free after having proved innocent, very seldom we get to hear about them on the channels or respectfully mentioned in the headlines on the first page. The poor coverage of such cases, never lets us know about many courageous and human right activists like SHAHID AZMI; and therefore the film based on his life is indeed a very vital and major contribution made by Hansal Mehta and his team to Indian Cinema as well to Indian social system, embracing diverse religious beliefs since centuries. Having been at the receiving end of a grave miscarriage of justice, Azmi acquired a law degree and, in a brief but spectacular career, took up legal cudgels on behalf of many innocents accused of acts of terror without sufficient evidence of involvement. In the seven years that he practiced until he was gunned down in his office, Azmi secured as many as 17 acquittals, a feat that any lawyer would not only have been proud of but also rather worried about.
The film's barbs are aimed particularly at those that are quick to jump to conclusions and believe the worst about suspected terrorists. The film details the facts of the subtle yet tragic life of the intrepid TADA detainee-turned-human rights lawyer Shahid Azmi, who was killed in cold blood in early 2010 for defending a 26/11 accused (who, incidentally, was acquitted two and a half years later).
The most arresting aspect of Shahid is that it does not adopt an accusatory tone to narrate the tale of a man who paid the price for daring to stand up for the persecuted at grave risk to his own life. 'Shahid' is an account of a slain Human Rights lawyer, an ordinary citizen with an extraordinary commitment to justice. The movie salutes the late lawyer's courage and brave journey, with complete conviction. His journey unfolds breathtakingly and also, at times, disturbingly. In fact, the film manages to keep you engrossed from start to end. Without doubt, 'Shahid' is amongst the finest films to come out of the Hindi Film Industry in recent times. With a mix of more facts and less fiction, director Hansal Mehta makes this best film of his career in a pure realistic tone.
Shot at actual locations with an immensely likable touch of romance in this otherwise unkind portrayal, the film reaches its peak with all the gripping courtroom scenes filmed in the most authentic manner rarely seen before in a Hindi film in particular. SHAHID grabs you from the collars within the first 10 minutes itself, especially in the scene wherein even a mother is scared to open the door of their hideouts in the riots, listening to the voice of her son knocking at it constantly.
The young man whose story Shahid tells never sought to hide his past, which included a short-lived stint in a terrorist training camp in Pakistan Occupied Kashmir and many years of incarceration in Tihar Jail on charges of "plotting against the state". The flimsy allegations were never proved and Shahid Azmi walked free and touched many lives in the remaining years of his life.
Mehta's impressive and utterly fearless film focuses on only two of the many cases that Azmi fought. One can see that the man is up against heavy odds, but he never abandons his faith in the judiciary and keeps chipping away at the ignorance and prejudice he finds all around him.
The film takes forward the principal burden of Azmi's defining argument against the law enforcement and judicial system's callous tendency to brand every single accused as a terrorist but does so without taking recourse to any kind of emotional manipulation.
Shahid draws much of its strength from Raj Kumar Yadav's pitch-perfect pivotal performance. No wonder Rao won the best actor National award for his role. Yadav is an actor in the Manoj Bajpayee mound, capable of conveying anguish and inner turmoil through the slightest physical effort or facial twitch. The character of Shahid Azmi needed a performer with the self-belief to immerse himself completely in the milieu and let go off his own personality. Yadav does that effortlessly.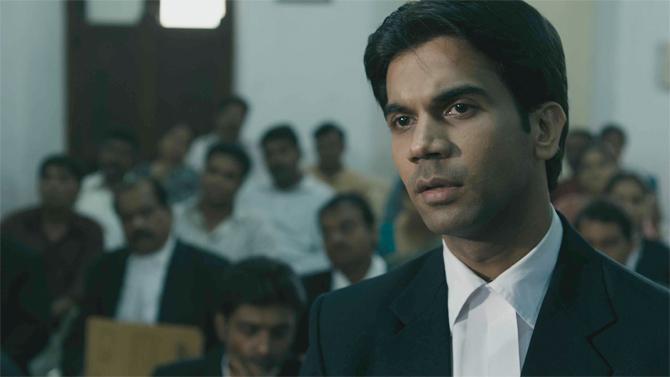 So if you are willing to see a rare kind of alarming as well as enlightening biographical film made on a true fighter who always fought for others in his forcibly shortened life of only 32 years, then do watch Shahid. Truth is pure, natural and simple. Hansal Mehta's Shahid focuses on the state of mind of a common man. A man sees the violence and brutality of world and then follows brutal way to end it. But after realizing that an eye for an eye never earns anything but will leave the whole world blind. He runs away to live a life of man who could give justice to himself and others. Religion has nothing to do with the justice. The one who dies and the one who kills are human. This movie leaves a deep message for us by showing the extra ordinary life of an ordinary man. Personally, more than the film, it is the message, the purpose and the mission of the man named Shahid, that bring to the fore particularly for the Indian viewers, this religious clash everyday and inseparable issue of our multi-cultured society. The film won the National Film Award for Best Actor and Best Director at the 61st National Film Awards ceremony.
Has the violence that environs us numbed our collective sense of justice to such an extent that we have qualms in looking for convenient scapegoats among people who are already secluded and driven to a corner? Why is it that so many young men of a particular community get hauled up every time a terror attack takes place and why is it that the media and its consumers so easily presume guilt on the basis of half-baked charges and insinuations? Watch the film if you are looking for the answers…