Leave aside blockbusters that rake crores at the box office; Bollywood is still full of gems that might not have made it big at the box office, but are worth mentioning. Some of these tickled our funny bones while some enlightened us about the reality, but with the bombardment of new releases such films somehow got buried under the pile.
We try to brush the dust on some of the lesser known films in Bollywood that you need to look for and watch, if you still haven't. Trust me it'll be a time well spent. Check-out:
Mere Dad Ki Maruti
A control freak dad gets the shock of his life when he gets to know that his brand new 'Maruti-Ertiga-gaddi' has been whisked off by his son. And it's the same car he was supposed to gift his daughter on her wedding day. Hell breaks loose when the son ends up 'losing' the car, thus forcing him and his friends to form a complex web of lies to save themselves from the wrath of his father. An exciting film with a pretty different comic paradigm.
Luv Shuv Te Chicken Khurana
To escape a UK gangster, Omi returns from London to his native land after 10 years in Punjab and finds that most things have changed back home. So much have his memories blurred, that he has even forgotten the secret recipe of "Chicken Khurana" a dish that made the Khurana dhaba famous across the land. He needs to find the recipe to pay the family debts. Don't blame us if you get hunger strikes after watching it. The comic punches are original, the script is refreshing compared to the run-of-the-mill fast paced comedy dramas.
Mithya
Talking about the lives of gangsters in India, Mithya takes the story- line to a whole new level, where a two-bit actor played by Ranvir Shorey is sent to impersonate his look-alike gangster. An opposing gang plans to murder the don and put the actor in place of him to act as their puppet. But, things don't go according to plan. The fun starts when the other gang teaches the actor how to act and what to do once he gets inside the enemy clan's lair. Trouble ensues when he loses his memory after a fall. With some well-written characters, the plot follows the gang-rivalry, and the towards the end it turns out to be a heart-aching story which induces emotions and sympathy as well as anger.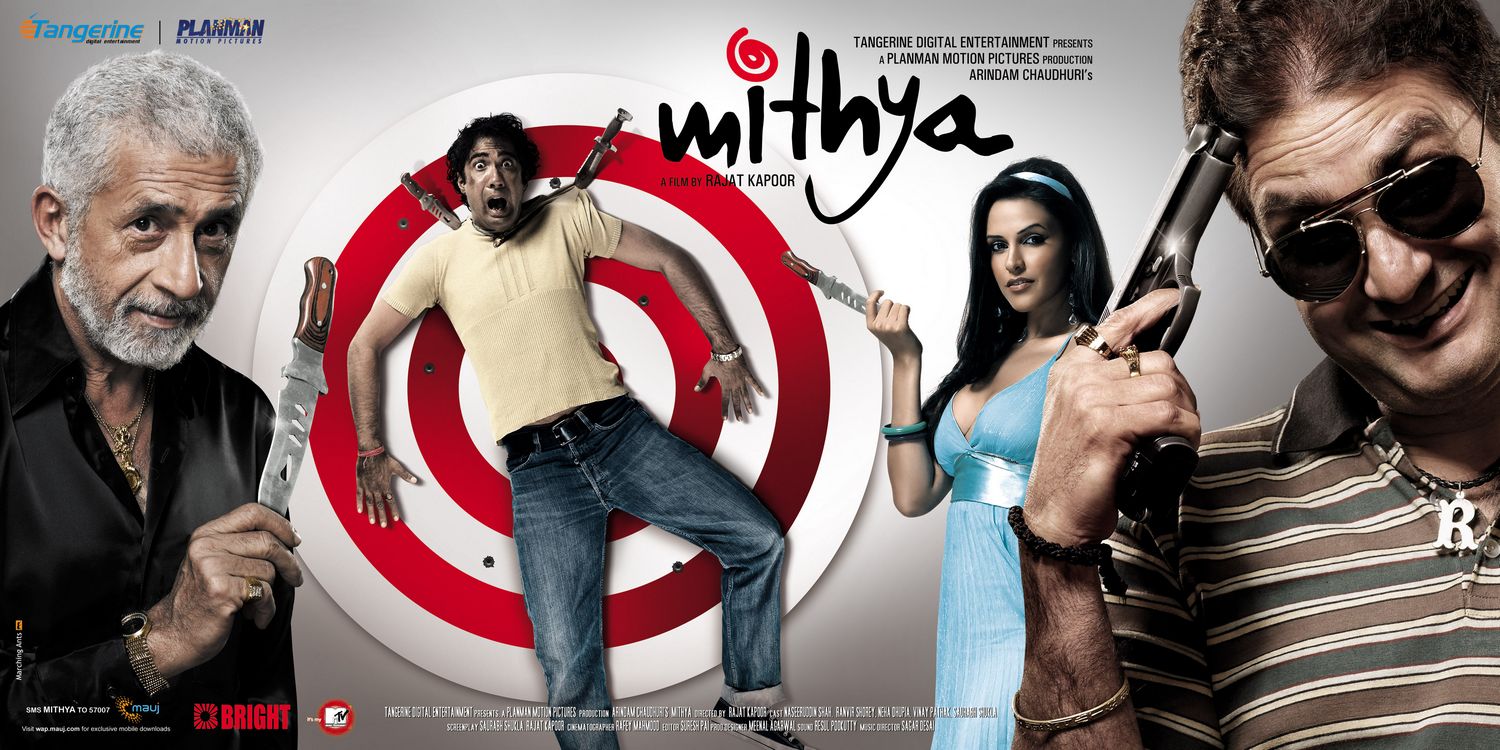 Ek Chalis Ki Last Local
Evidently a cult in the making, the makers have set the bar high with a very apt cast and engaging story-line. The film traces the story of two strangers who meet after missing their last local. Before they can take the next train, which is two and a half hours away, their lives change upside down. When the film starts the protagonist has 70 rupees in his pocket. And by the end of it, 25 crores! How he ends up owning 25 million rupees in two and a half hours is the story in a nutshell. En route, he encounters 'Pulp Fiction'esque characters and ends up in situations like one. Despite its low popularity, this crime comedy was a surprise hit.
Phas Gaye Re Obama
When a group of desperate Indian gangsters kidnap an NRI, little do they know that the victim himself is nearly-bankrupt. From recession affecting a gangster's business to a broke NRI, this film is a hilarious take on organised crime, crime-politics nexus and the great American dream. Constructed from a terrific script that's strong on plot and packed with crackling dialogue, 'Phas Gaye Re Obama' is consistently engaging.
Aligarh
Manoj Bajpayee's striking central performance only adds more credibility to this fact-based retelling of the story of stigma, society and sexuality. Based on the real life story of a professor at Aligarh University who was sacked and rendered homeless for being a homosexual, Hansal Mehta's movie doesn't sugarcoat the issue. Aligarh didn't quite get the box office that it deserved even though many applauded the movie's uncomfortable subject in a hushed tone.
Island City
One of 2015's best films, Ruchika Oberoi's Island City is an anthology of stories on the loneliness and seclusion that set in after living in an urban setting for long. The film follows three different stories including Vinay Pathak's, Amruta Subhash and Tannishtha Chatterjee's – each slightly interconnected and therefore touching upon the dark humour of all the stories. The film was criminally overlooked by the audience.
Citylights
A beautiful and thought-provoking film, Citylights arrests the dark side of the city of dreams, Mumbai. With actors like Rajkummar Rao working under National Award-winning director Hansal Mehta, the scenes capture the emotional turmoil of a couple from a small village in search of a better life in Mumbai. They become the victims of the cruelty of the city and are forced to do anything for their hunger. Besides, the film also tries the desperation of a family man and his willingness to fend for his family. The film shows the darker side of the city and takes you to a fearful side of poverty and helplessness.
Lakshmi
Based on true events, Lakshmi is a story of untold courage and heroism. Lakshmi, a 13 year old girl is kidnapped and sold into prostitution. Thrown into this horrific and inhuman world where she is raped and brutally beaten, she barely survives with the help of the other girls and her own will to never give in. Finally she is rescued in a police raid. Against all odds, Lakshmi shows bravery where everybody else fails. Repelling all pressure – violent threats, bribes and coercion, she stands up in court and in a landmark case in India, and succeeds in putting the traffickers behind bars.
Ankhon Dekhi
Ankhon Dekhi centers on Raje Bauji, played by Sanjay Mishra who, after a dramatic incident, decides that he will only believe what he sees with his own eyes. Raje Bauji is a man in his late fifties, living out a tedious but eventful life in a small house in old Delhi- where he lives with his extended family. A random incident is going to change his life in a dramatic way (though he does not realize at the moment.) Bauji's daughter has been seeing a boy of ill repute. When that fact is revealed to the family, after much deliberation they decide to do the obvious- lock up the girl and go beat the willful boy. It is a funny old journey of this man, this old fool who is both Lear and the fool.
Some of these films continue to be underrated gems while others have received cult status over the years. Regardless, they all began their sojourn on the silver screen as 'small' films but went on to get bouquets for their content.