BY SIDDHARTHA MUKHERJEE
Adapted from O. Henry's 'The Last Leaf', Vikramaditya Motwane renders his Midas-touch to 'Lootera' and, like so many of his film's frames, bathes it in the golden rays of the sun. This preeminent kind of period piece, this mid-20th century tale is imbued with a heightened sense of self-awareness on what makes this genre tick. Many directors can conjure up moody shadows and beautiful frames, but what is on show here is so much more special, and Vikramaditya Motwane is clearly a wizard.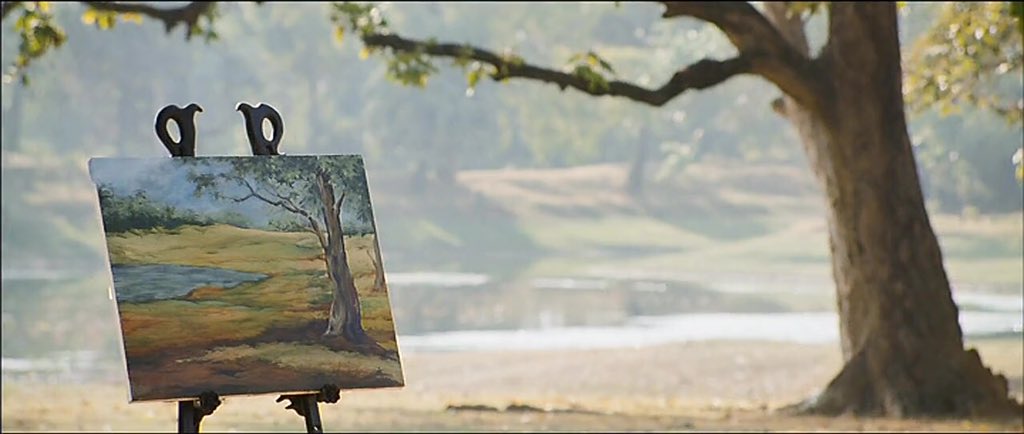 He fills the canvas with history, art, fable, poetry, literature, occasional nods to classic Hindi cinema and music, and loads of passion, beauty and truth. Lootera eschews overt melodrama and settles for an approach that grips as much the complexities of human nature as the simplicity of myth. Lootera uses quietness, silence and stillness incredibly well; in such moments of repose, one can hear footsteps on a hilly pathway or a piece of paper being crumpled, and that is such a rarity in a Bollywood film.
Lootera is exquisite film-making – a film that uses its period setting affectionately, with gorgeous detailing. It's beautifully old and atmospheric without feeling dated. The movie is designed with an older, art house-going viewer in mind for people who don't demand quick cuts and ceaseless camera movement: from the lace curtains to the mosquito nets, from the checkerboard floors of the old mansion to the frozen-over remnants of a roadside shrine to a dashboard light surrounded by open-air darkness; from the rural landscape of Bengal to the sun setting somewhere on the boundless fields, to the pristine white snow in Dalhousie to the last leaf on a tree – every frame exudes visual poetry, with each panorama prettier than the last.
The two halves of Lootera are distinct chapters: the green of the Bengal landscape gives way to the snowy, hilly heights of north India. Each half is filmed in subdued hues by cinematographer Mahendra J Shetty, whose contribution to the overall impact of the work is enormous.
Falling leaves of an autumnal tree and a girl who is assailed by thoughts of dying ~ the two essential components of the O. Henry short story (The Last Leaf) provide the basis of the narrative. The screenplay not only dwells on the unpleasant and familiar sensation, but also prolongs it ruthlessly to create a stinging metaphor on survival in life's aloof, apathetic, social environment. Set in 1953 in the small village called Manikpur in West Bengal, 'Lootera' begins, with Durga Puja in the backdrop and scenes from the Ramayana being enacted in a Jatra (a form of folk theatre prevalent in Bengal.)
The movie places the swoonier love story aspect in the forefront, but it also, more interestingly, surfaces its coming-of-age qualities. Pakhi Roy Chaudhary teases Varun Shrivastav about having to be tamed, and as they bond over art and literature, their adoration culminates into a passionate affair. Love, tremulous at first and then full-blown and physical, blossoms as furtive glances, frequent dinners, car rides and informal painting classes allow the two to explore each other's feelings.
The suspense grows with every scene too: that goes unclaimed every time Pakhi escapes the next expected tragedy, the stakes get higher and higher.
Sonakshi Sinha infuses Pakhi Roy Chaudhary with unwavering practicality as well as a modern female sensibility, and the result is a screen heroine who makes you smile, even when she becomes a sort of pioneer suffragette on a challenging emotional trajectory. She internalises the frustration and willpower to craft someone heroic yet practical and though shattered by the prevalent tragedies she is rational enough to not hold grudge.
Ranveer Singh's performance is subtly all-consuming enough to bring Varun Shrivastav to three-dimensional, high-definition life. Singh peels away Varun's anger and veneer with devastating honesty. He wears pain in his eyes, and persecution in his sighs. We see him wanting to stamp out hope but unable to go through with it, the actor carving up his character with both weariness and restlessness at once. It is a strong, resonant enactment of character, an appropriately powerful performance that shines in soul and spirit.
The authenticity is constant, and the cinematography captures detail without lingering gratuitously on it, preferring instead to shoot from the characters' un-touristy eyes or to eavesdrop close to them, hovering too-close with brilliant, hand-held unpredictability.
Motwane's direction is so confident and assured that the film is resultantly free of false-notes. Even the few moments that feel like narrative missteps turn out to be masterstrokes. There are no small emotions or events, and Vikramaditya Motwane's excellent cast plays every one to the hilt, delivering big, bold performances as their characters fret about their status.
Amit Trivedi's lyrical score soars throughout. There's an incandescent, ethereal aura radiating through each tune.
Lootera attains a rare, unapproachable standard of perfection. It is a masterpiece that depicts a sad world; buoyed by the chemistry between its leads and the genuine feelings that they manage to convey, this is definition of realism as you'd like to see it on the screen…