BY SIDDHARTHA MUKHERJEE
Directed by Ali Abbas Zafar
Starring: Salman Khan, Anushka Sharma, Randeep Hooda and Amit Sadh
Believe in yourself, your best self and things just fall in place; the film seeks to tell children and adults alike packaging its inspirational philosophies in an entertaining dose of frisky action. The focus is clearly on the documentation of the illustrious career of Sultan, a fictional wrestler from Haryana, his uphill struggle, impediments, apprehensions and eventual triumph. The movie is about determination, confidence and dreams. Sultan inspires us to fight with our inner demons and emerge victorious, since nobody on this earth can defeat us, unless and until, we surrender, yield and accept our defeat. The movie encompasses pertinent episodes/chapters from the icon's life and create a film that makes you salute the sportsperson, besides evoking the spirit of nationalism in the spectator. There are a number of sequences that make you moist eyed, besides leaving an indelible impression. Director Ali Abbas Zafar certainly knows the pulse of the audience, and he has ingrained the film with the right mix of emotions, action, music, fun, drama (a bit of melodrama too), and of course the star power of Salman Khan as the titular character.
Sultan doesn't settle within the rags to riches story, despite clichés. 'Sultan' is about a man, who rises from nowhere, becomes a hysteria, and then falls apart again, only to eventually triumph. The movie opens with Aakash (Amit Sadh) bringing in a new wrestling format called "MMA" (Mixed Martial Arts) which is facing deep troubles to promote the 3rd season. His father suggests him to find someone from India itself to represent the nation and suggests the name of Sultan. We are told in a very long flashback, how Sultan, a wayward cable operator in a remote town of Haryana, takes up wrestling for love and does remarkably well. During the course of the story in the flashback, Sultan encounters Aarfa (Anusha Sharma) who is also a wrestler, state level champion, has done her education in Delhi, and runs a wrestling training school along with her father Barkat (Kumud Mishra) in the village. To win over Aarfa, the boy who never nurtured any dream embarks on the journey of winning Gold Medal for India at Olympics. Things go well till a major setback brings fissure in Sultan's relationship with his wife Aarfa and impels him to relinquish the ring. It's only after a hiatus, that Randeep Hooda with his little screen time engages the audience with his heated acting as the martial art instructor who trains Sultan as the 'unbreakable bull' and coaxes him to come back to the ring and reclaim his glory and conquer his guilt.
Sitting in a single-screen theatre, the air was filled with shrill, thrilled whistles as soon as the censor certificate hit the screen. The first glimpse of Khan, of 'bhai' flexing his triceps and entering the arena rubbing dust which was seemingly executed in slow-motion and shown to us even slower, had the crowd in paroxysms. Tightly done fight sequences, lots of glamour and one liners that cater to the classes and the masses is what makes Sultan worth a watch.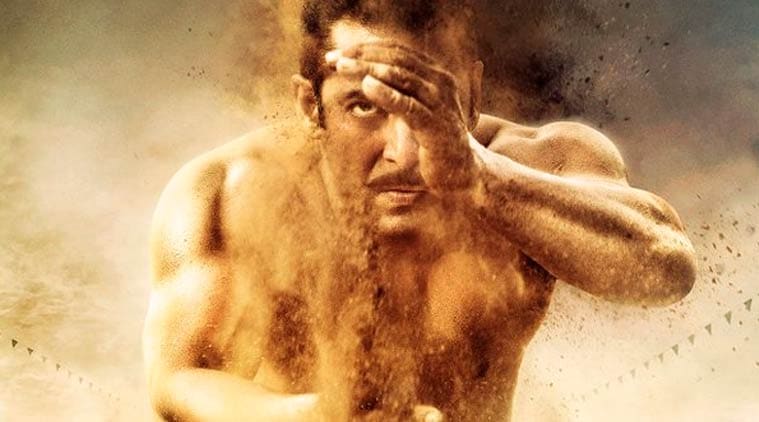 While art by definition must trigger certain emotional responses, occasionally there's too-obvious a feeling of really being manipulated and stroked. Salman's journey from a villager to an international wrestler rests uneasily at moments. Then there are occasional flashes that the film may be patronizing feminism, as much if not more through the voice and gestures of Aarfa, though it is extremely disappointing when the director and his script lead the very fact that starts to meander and eventually fizzles out, collapses and dies in front of our eyes. The wrestling drama could definitely be more impacting barring few songs in the reel. To repeat, best not to dwell on the film. Better to let the smoggy fairy tale run its course and allow general audience patrons their own unique word of mouth propulsion.
Cometh Eid, cometh the superstar – Salman Khan. Every year. His frenzied and passionate fans yearn for this festive time of the year for a treat that 'Bhai' gives them so lavishly with insane action stunts and out of the world-nutsy antics. But Salman having reinvented himself with his last movie, Bajrangi Bhaijaan, adds another layer to a more refined form of an actor in Sultan. Salman is totally engaging as Sultan Ali Khan, acting with a mixture of boyish intensity, rugged passion, indomitable pride and cheerful innocence.
Anushka is equally appealing who seethes with anger trying to prove women's worth in this patriarchal Indian society, while slowly blossoming into a loving young wife. There is Sultan's best friend Govind played by Anant Sharma who nails his role to perfection. Hooda looks sufficiently turbulent and plays it subdued. The rest of supporting cast fit into their roles quite well.
The lone aspect that weighs the film downward is the fact that the narrative totters in the middle of the second hour, when the story doesn't really move frontward. The film seizes your attention for most parts and as you exit the screening, it's with a happy face, with a tinge of melancholy, which only indicates that the storyteller has succeeded in engaging your interest to something he wished to emphasize on. The screenplay is pretty tight and succeeds to keep you at bay. Background score by Julius Packiam deserves special mention. Cinematography by Artur Zurawski is good. The film makes you cognizant that serious cinema can be uniformly delightful.