BY SOMREETA MUKHERJEE
Kolkata is a foodies' paradise. A city known to cater to the taste of every gourmet, Kolkata is indeed a City Of Joy for every food lover. Check out the places associated with the old world charm in Kolkata-the eateries that you simply cannot afford to miss. Life is short and you MUST try them out!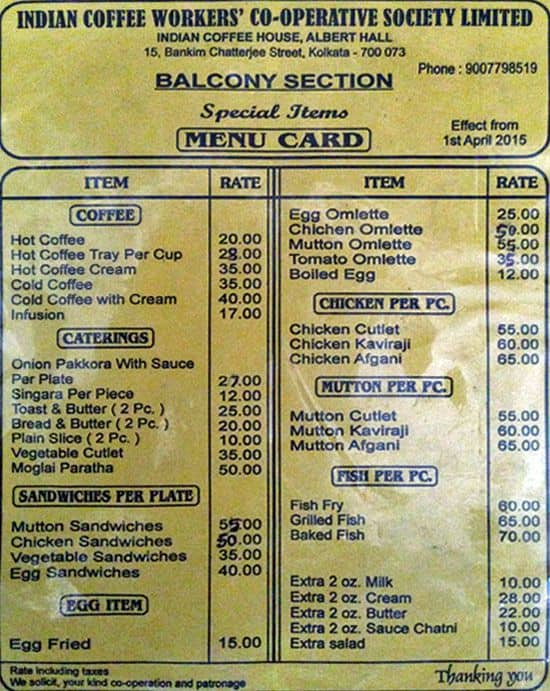 PARAMOUNT SHERBET
Paramount is located in the heart of the city of Kolkata. Next to the Mahabodhi Society in College street, this iconic sherbet joint is frequented by people of every class and age, gender and community. This place is associated with an old world charm and unique sherbet recipes that have stood the test of time. Don't forget to take your friends along with you for that awesome 'adda' session as you sip on your favourite drink this summer- choose from the legendary dub sarbat, the mouth-watering cocoa malai, the thirst-quenching grapes crush or the delicious cream green mango sherbet. A symbol of Kolkata's heritage, Paramount should feature in your list of must-go place in Kolkata.
INDIAN COFFEE HOUSE
The intellectual crowd, the legacy and the old world charm of the Indian Coffee House in Kolkata should be enough to make you ditch Barista or CCD for the time being. This famous café located in College Street is an eternal favourite of every Calcuttan. Visit this place for their cold coffee, infusion, Chicken Afghani and Mutton Kobiraji. The high ceiling, the huge hall skirted by balconies, the dim lights and the constant buzzing sound of innumerable highbrows that frequent the place, Indian Coffee House is surely more about the ambience than the food or anything else for that matter!
GOLBARI
Golbari in Shyambazar is known for its finger-licking Kosha Mangsho. Make this place your occasional hangout whenever you want to relive the old charm of Kolkata along with Kosha Mangsho and Porota.
MITRA CAFÉ
Mitra Café in Shobhabazar area is a legendary fast food outlet in Kolkata. Chicken Special roast, Fish Fry, Mutton Kabiraji, Brain Chop and Pudding are must haves if you plan to visit this place. Though dingy and crammed with people, tables and chairs, here you get to feel and smell the 'old' Kolkata and obviously, food is par excellence!
PETER CAT
Located in Stephen Court, Park Street area, Peter Cat restaurant happens to be one of the oldest establishments in Kolkata. The intimate dining room, the Tiffany lamps, white stucco walls and soft lights- Peter Cat is the place to be if you want a unique combination of heritage and charm, good food and ambience. The Chelo Kebab platter happens to be extremely popular among the Calcuttans. You can also try out the Chicken Steak Sizzler which is equally well-loved.
Make the most of your stint in Kolkata. Eat and eat and eat the best that Kolkata (and Bengalis) has to offer. Trust me, there is a lot to explore and truly, you need to experience (and not just taste) the food you get in Kolkata.
Picture Courtesy: Google Image