BY SIDDHARTHA MUKHERJEE
Directed by Tony D'Souza
Starring: Emraan Hashmi, Prachi Desai, Nargis Fakhri, Kunaal Roy Kapur and Lara Dutta
Producer Shobha Kapoor, Ekta Kapoor and Sony Pictures Networks redound your expectations to a greater degree, patently with the top-notching teasers and promos. But naturally, the film's result would rarely exceed your expectations and Azhar doesn't seem to be an elision.Though the narrative is a fictional account based on true events in Mohammad Azharuddin's life, it is the most diverse story inked on script among other works by Rajat Arora who's well-known for writing blockbuster hit and critically acclaimed The Dirty Picture and Once Upon A Time In Mumbaai. A dash of some imaginary anecdotes are incorporated in the biopic excellently, since the moviegoers seek some diversion and entertainment in a movie, besides enlightenment. Terrific would be one word to sum up the dialogues. Keeping in mind the mood and the era, Rajat enhances the titular character with lines that will have the audience whistling in delight.
Azhar tracks the journey of Mohammad Azharuddin, a silent kid raised by his grandfather who draws parallels with innocence and vulnerability, turns into a believer of his grandpa's dream and begins smiling and responding to life while letting his cricket bat speak.  Emraan Hashmi plays the tragic protagonist beautifully, bringing quiet but steely resolve to the character; (yet showing that he's worthy of both wolf-whistles and applause.) It's a dazzling performance, and a remarkably brave one. Considering we live in a country so cinematically repressed, Hashmi proves so dynamic that he steps out of his usual chocolate boy image with the T- shirt collar up in Azhar's trademark style and plays a very serious role with full conviction and great intensity.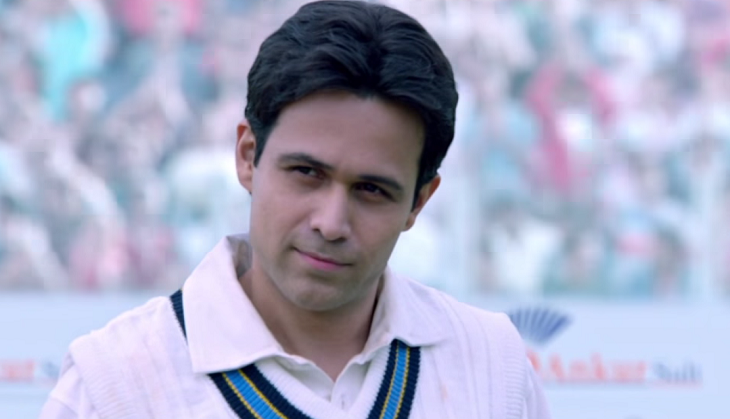 The movie opens with a shattered Azhar in a dilemma on realizing that he has been wrongly accused of match fixing and a dream his grandfather had prophesied was thwarted when he was banned after playing 99 Tests. The film goes back and forth across years unfolding simultaneously his relationship with his wife Naureen (Prachi Desai) and his extra-marital affair with a Bollywood actress, Sangeeta (Nargis Fakhri). Chronicling the meteoric rise and steep fall of a cricket sensation, the film is set against the protagonist's life- flashbacks, the controversial test matches in the 1990s, and court-room trials setting. The humour is all situational, timely woven in the script and never having to depend on a banana peel skid.
Though the biopic shows an interesting plot but director Tony D' Souza stumbles down on the process of framing the scenes in order. Editing work is poor. The initial portions of the film go along with a few attention grabbing moments, but things go astray in the latter part that looks out to be 'beating the same bush'. The problem with Azhar isn't just about Cricket factors, but the very clichéd way of narration; the screenplay fails to be riveting in many parts letting you easily predict what's gonna happen next.
Kulbhushan Kharbanda is perfectly cast in the role of 'Nana', effectively offering a glimpse into the welled-up emotions of a concerned grand-parent. Kunaal Roy Kapur's stammering-show and baldy-bare act as lawyer Reddy are sure to seize the viewers. It's a novel casting because it is nothing like what he has done before and is completely diverse to his image; his character is a caricature but then you end up laughing at his antics. A 'fan' once upon a time, Lara Dutta portrays the role of Azhar's no-nonsense prosecutor, Meera, and manages to take some screen space with an annoying loud voice, an arrogant attitude and petulantly insisting herself on speaking laboured and unnatural English even when sanity demands otherwise. Ardent buffs of TV actor Gautam Gaulati with the his curly-moustache-smile have nothing but plain letdowns. Shernaz Patel does her part well while Prachi Desai gives natural emotions to her role. And Nargis Fakhri…well she does her job well, indeed. She does the required shimmy-shake- dumb-eye-candy-number and rarely do we see such a talent-free pair of botoxed lips in a wooden frame gracing the mainstream cinema.
Azhar moves briskly but fails to lift off above the ground. It isn't an appreciable piece of work from Balaji Telefilms banner. Sparing the dialogues and performances by Emraan Hashmi and Kunaal Roy Kapur, the film hasn't got anything special to watch out for.