BY SIDDHARTHA MUKHERJEE
Contrary to the American norm, Washington's monumental buildings have been more intensely studied than its domestic architecture. The White House's position in the capital of the United States, and its architectural significance in its central core, have contributed to wide-spread attention of Washington's greatest public architecture. Extensive measures and security are used to protect the building. Well, the workplace of the President of the United States since 1800, The White House is one monumental building located at 1600 Pennsylvania Avenue in Washington, D.C. and it's one of the few famous architectures to have come under attack multiple times in movie history. Here are some noticeable White House Attacks in movies:
Superman II
The three villains descending silently through space towards Earth is chillingly ominous; and then they storm into the White House and confront the President. The film's brilliant double-bluff ending will have you frozen to your seats.
Independence Day
This is an updated space invader film but it suffers from a slightly long running time. The film though is drastically saved by offering a stunning conclusion and some awesome visuals as Earth's cities and White House are destroyed and mankind struggles to survive.
2012
The film's lack of impact and delivery combined with the lengthy duration tests the audiences' patience much; but the  visually breathtaking trashing of the world's greatest monuments ― the White House getting squished in a tsunami and a church in Vatican falling over on the Pope captures the attention of the viewers indeed.
White House Down
This is director Emmerich having fun ( after destroying the White House – if you count freezing it – for the fourth time). Unfortunately this is a mediocre action film that is quite forgettable, and let me dispense with the formulaic statements that crop up here:  Its 'Die Hard in a building', or more specifically 'Die Hard in the White House'.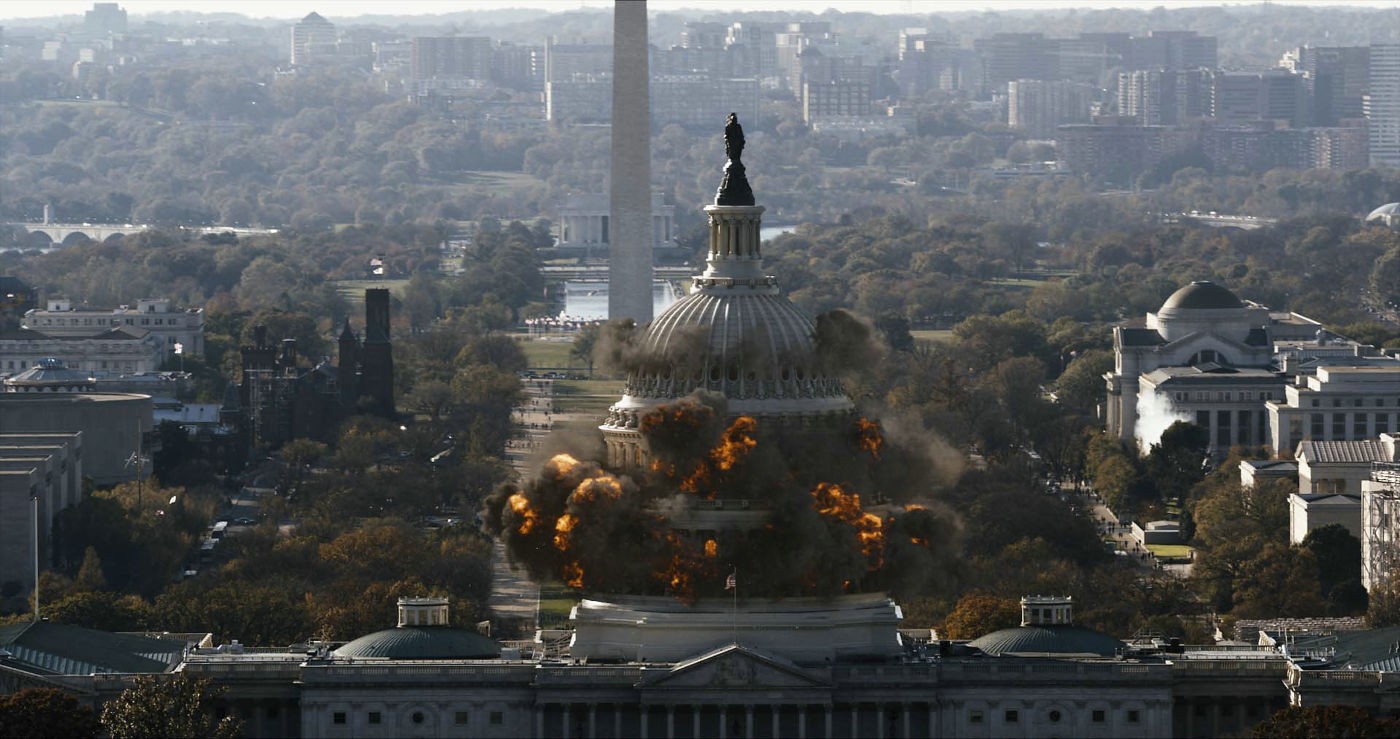 Olympus Has Fallen
Morgan Freeman probably is there to strengthen the star value in the film. There is no real story in this movie and we see an outrageous number of defensive failures on the part of several security organizations ― enough to bring on a not-so-clever or intriguing attack on the White House.
G.I. Joe: Retaliation
The White House seized by the villains with Cobra insignia flags draping over it, is quite a scene; but the flick lacks so much in the way of genuine action production value. The action scenes in the film which all have such little appeal that the manic energy of the experience is bound to wear viewers down.
That's all folks!